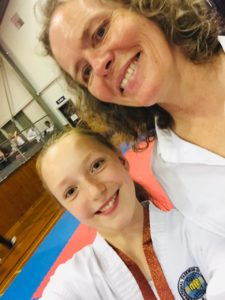 Daisy with mum Mary Daborn
The under 18s was the day after my birthday so we went to Tauranga and stayed in a motel . The motel had a amazing pool and a cool staff; I played in the pool and my mum played candy crush . After the long drive we were starved, which meant foooooood. Burgerfuel was just across the road so we went there for some yum fast food and got delicious McDonalds Mcflurrys after ,YUM. At the motel we saw some other TKD people staying there for the tournament and although we didn't recognise them, they knew us. Mum chatted for a minute then we headed to our room. We decided I would have the little bed in the TV room cause I would be able to watch TV in the morning – YAY.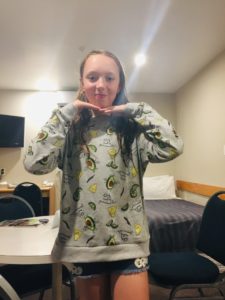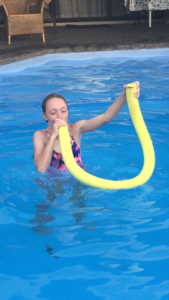 It was a cold morning but it warmed up. We went early to put out the mats and met up with the Hamilton TKD group. There was Mr Blackwell, Cherie (Sian's mum) , Sian , Ollie , Eli , Ayden , Tane , Lauren , me, and Mrs Daborn aka my mum who was officiating, My sister Sophie wasn't there because she was at a world champs training and my dad was taking her so it was just me and mum . I was extremely frightened for sparring even though I had done it before!!!! Patterns was fun although I messed up a bit . The tournament was fun but I was really disappointed to find that if you're a green belt and 11 years old you can't do power punch or high kick ( not even breaking); this ruined my experience a bit and I think they should change that rule.
This was an amazing experience and I would recommend to anyone to go. Even if you're over 18 you can still go to Regionals. I  do hope you enjoyed reading this article.
Daisy Daborn (11), Blue stripe, Hamilton TKD