Claudia Cale 1st Gup, Te Karaka Taekwon-Do, Gisborne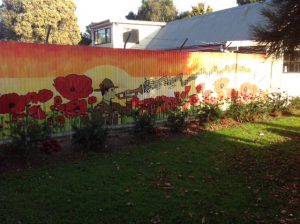 What an appropriate entrance to the Regionals Dojang, Ilminster Intermediate School
On April 28th starting promptly at 9 am, Te Karaka Taekwon-Do hosted the 2018 MIDLANDS REGIONAL TOURNAMENT…. I was 5 years old when the tournament last came to Gisborne 13 years ago!
My instructor, Mr Kevin Cale (my Dad) and my mum (assistant instructor) have been busy since mid- last year putting the cogs into motion for hosting the Regional Tournament. They thought it was a good opportunity for the other clubs in the region to come down to "Gizzy", and check us out and enjoy the scenic drive through the Waioeka Gorge.
What a fantastic turnout for the Gisborne regional tournament. Even with most competitors having to travel a long way to be there, it has been the best turnout for the regionals since 2011. The last time Gisborne held the regional tournament was back in 2005.

The day itself ran smoothly due to the amount of work that went into setting up beforehand. From getting the rings and equipment setup and ready, too the technical side, working and having little to no issue. This tournament could not have happened without the region pulling together and getting the right equipment needed for the day.
Tournaments have been a part of Taekwon-Do training ever since General Choi started to spread the art farther than just Korea.  Once he visited other countries, he thought it would be a friendly way of competing – to challenge the practitioner to better themselves in patterns and sparring…. and in some tournaments, board breaking and specialty techniques.  Then from folks watching tournaments, more would want to learn this beautiful and powerful martial art.  Tournaments helped General Choi spread Taekwon-Do.
Competition is a tough concept.  It is easy to be a good winner, more difficult to be a good loser.  In this day and age we try not to say "loser", but there is someone who wins and someone who loses in each competition.  A person is only a "loser" if they give up.  I heard a memorable quote:  "I never lose….I either win or learn. The bottom line about tournaments.  It is a very valuable learning tool.  When we show the courage to get up out of our comfort zones and compete it tells a lot about ourselves.  All students should try to attend tournaments.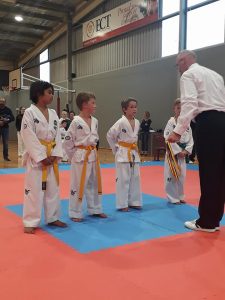 Proud moments
Students will have the opportunity to meet and make many new friends.  Then the next time a seminar, tournament or camp comes up, the student gets to see their new friends again and fantastic relationships are created for first time competitors as well as our World Champions.
The expertise of David Blackwell, being in charge of the technology and keeping the electrical side of things running smoothly, helped greatly with making the day work more efficiently and stay on track time-wise.
Traveling down from Auckland to Gisborne is an extremely long trip, but to come down from Auckland and just to help out and officiate for the day is something that shows us just how amazing and supportive the Taekwon-Do community is.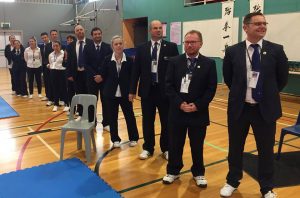 Without any officials, organisers and supporters, competitions like the regionals wouldn't happen. So, an extra special thanks to all those who helped in some way, shape or form.
And last, but not least, thanks to Mr Kevin Cale and Mrs Sally Cale for planing, hosting and doing an exceptional job. As without them putting their hand up, this amazing experience for wouldn't have happened.
Photo credits: Jenny Wilkins, BOP TKD, Natalie Cale, Rebekha Upston