Brendan Doogan, 5th Dan, Dragon's Spirit Papatoetoe
Writing is something I've enjoyed since my highly successful story detailing "A Day In The Life Of An Earthworm", at primary school in 1988. So, when I made the subtle but important mistake of hitting my foot with an axe only six weeks before the 2014 World Cup in Jamaica, I took the chance to stretch my writing legs, as my real ones were hindered by crutches and a moon boot. Instead of competing I coached, seconded, reported. Since then I've done the same for each World Champs and World Cup, because clearly, I don't have enough to do besides trying to win medals and helping others do the same.
I don't spend much time planning each piece, most often I think of a satisfactory perspective, and write towards it in one sitting. There is longer term prep for some pieces, especially if I feel they're important, or have a critical point that needs getting across in the best possible way. Conveying the negatives and positives of the competitive world is a topic that needs a good mulling over, something I'll set in my mind as something that needs addressing, but will leave mostly to the subconscious to sort out while the rest of me is going about the million and one other tasks at hand.
This time round I thought I'd start the night before we set out, to give a sense of the preparation and tension that was building:
The last night at home for Nga Kaponga, The New Zealand Team. Our new name represents us as well as we hope to represent our country, our art, our instructors, clubs and families.
The last night at home, training for some, rest for others, nerves, excitement, relief, anticipation.
The first "last sleep".
We are Nga Kaponga, the tree ferns of Aotearoa, and we are coming.
Brendan Doogan
I took this picture as representing our aspirations and setting the tone for ourselves and our opponents, who were undoubtedly watching.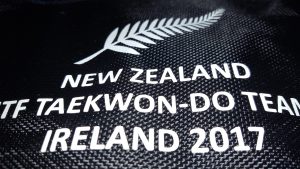 Is it too soon for an update? Three hours' flight to Brisbane, a nice warm up for the long haul to Dubai. Fourteen hours I think.
We're flying Emirates, tonnes of in-flight entertainment (only watched one movie myself but watch this space), good food, and as always on this airline the composition of the cabin crew was announced: 18 members speaking 12 languages. And you can watch the take-off and landing thru outboard cameras.
For the experienced traveller it's nice seeing the first timers figure out screens, tray tables, toilets.
Now for a spot of lounging and loitering.
BD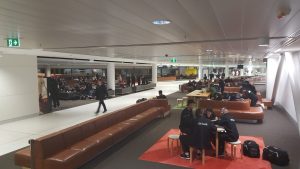 First order of business upon landing at an airport, ably demonstrated by participants of all ages: find the free wifi.
That was the longest flight, 16 or so hours. I can't speak for the others but my stats are three movies so far, seven TV show episodes, 180 pages read, four hours sleep and one really good stretch down the back of the plane.
So far Shylene Singh is winning the "most hours slept" trophy I think, with seven on the last flight alone!
At the moment, everyone's having a wee break before the last flight, to Dublin, checking out the airport, chilling, having a shower, chatting.
BD
I wrote two posts on the trip, partly for something to kill time, and partly to convey to everyone back home just how much time we had, that needed killing. This one was a longish trip, but still shorter than the 40 hours it took between Auckland Airport and the hotel in Spain in 2013. Those coming up to Auckland first of course have a still longer trip.
I measure flights in numbers of movies watched. The longest leg this time was a potential seven movies, although even with 500 on offer you get sick of them pretty quick.
We're tired. Some of us have been awake since Fri morning, roughly 48 hours. The lucky ones have had three, four, even six hours sleep.
Glad to be here nonetheless, and very much looking to the coming days with anticipation and firmness of purpose.
BD
This pic captured the mood well I think. Fatigue.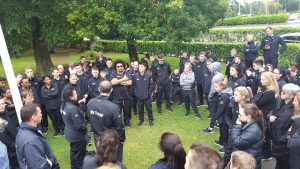 A spot of training after a good Irish breakfast. Everyone seems glad of the chance to move a bit, work out the kinks and settle the nerves a bit. Nothing too strenuous, finishing with a run thru of the Haka.
Most folks are now heading into Dublin city for a look round, as we have the day free till dinner at six or seven.
BD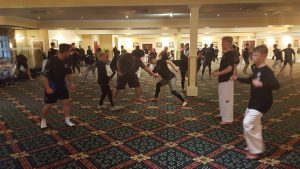 Time for dinner after a day's exploration in Dublin city. We played the amoeba game, splitting up, meeting up, making for separate sights and running into one another all day.
The group I was with got off the tram in time for lunch. After a few false starts we agreed burgers or pizza really weren't the thing, so had Irish stews, cottage pie and the odd pint for the adults.
Lots to see here, the city is quite old and with lots of impressive history. Statues and plaques aplenty. St Patricks ticked cathedrals off the list for us, so we looped round to Trinity College for a tour and a look at the 800 year-old Book of Kells.
With so much more to see, and a day or two spare, we'll definitely head back in. Just now though a quiet evening with feet up I think.
BD
I like to vary the vocab and sentence structure I use to keep the audience from falling asleep. Ellipsis too. [Leaving stuff out deliberately so the reader can make their own conclusions, makes it more conversational].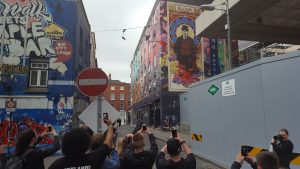 Last day of leisure.
Tomorrow morning we weigh in, and there are coaches & umpires meetings, last minute trainings and Haka practices.
Eighty odd of us went on a day trip organised by Mr Bowden which took us to Kilkenny and Glendalough.
In Kilkenny we had a wee guided tour of the Castle, some points of interest in the town and had lunch. By all accounts the food here has been very well received.
Denise the tour guide gave us a few more historical facts and figures on the coach to our next stop, Glendalough. We jumped out at the top of the hill for a quick photo or two then jumped back on just as quickly. Chill wind, stunning scenery.
Glendalough offered a toilet stop, beautiful remains and a nice 3km walk around the lake.
Dinner was very much less serene tonight as the other teams have begun arriving.
Final order of business was the Haka, at pretty much full tilt. Plenty of expression and heart poured out in demonstration of our intent and unity.
BD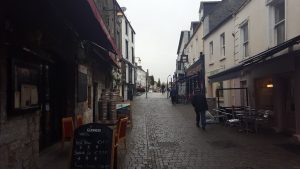 Short titles
I use these to help me and the reader know what I'm writing about.
I try to time streetlife photos so that there's either symmetry in the locals, or no locals to ruin the symmetry.
The photo of us taking photos of us taking photos may or may not have been re-enacted because it was so perfectly about what we were doing – but missed in the first snap.
Once again, we're at one of those waypoints where it seems we've reached an important stage after which we can relax. Selections was one, then meeting at Auckland airport, then arriving in Dublin, then today, weigh in. So much of the game is waiting. You hear the same about Dan gradings.
After weigh in we'll wait for lunch, then the opening ceremony and our Haka. Then we'll wait for day one to start, but not all of us are competing on the first day of course, so more waiting. Unless the schedule changes my own events aren't till Sunday, the last day of competition.
The mood is that quiet calm before battle. Determination is less evident than patience. The desire isn't apparent to the casual observer, but it would be a mistake to think it isn't present, and in large amount.
BD
This part links in to the post about the night before, and to the ones about meeting for departure and arriving at the hotel. It's important, and entertaining, to have threads that run through a series of posts / pieces.
Everyone made weight! Now food and drink is calling. We were to have started weighing in and registering at 0945 but there was a fault of some kind, so we've just finished at 1100.
There are a few ravenous athletes who've slogged their way to fighting weight. Their efforts were applauded by their team mates and supporters as each stepped off the scales. Big thanks to Chris Broughton for helping them.
BD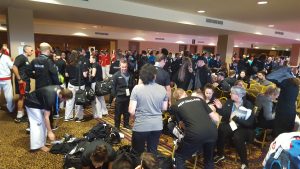 Short, terse, tense:
Ready to walk in for the Haka, you can feel the excitement rising, the stadium is dark and our future bright. Nga Kaponga!
BD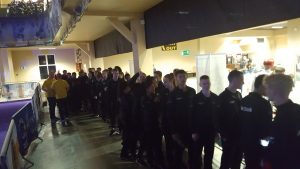 Well. I've been part of a few Haka for school, Counties Manukau and New Zealand, and this one tops the lot.
Such a pure expression of pride in our nation, aggression towards our foes and kotahitanga unity amongst ourselves.
We're hoarse, sore, shaking. Proud.
In a word?
OUTSTANDING
BD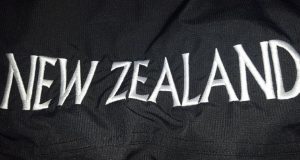 Here I tried to replicate the event itself in the length of my sentences. Lots of build up, gathering of momentum, then BANG!
The picture is of a jacket I arranged on the ground. I chose to have the words a little scrunched, as I thought it'd make a more organic, flowing image than simple straight text.
Preparations for Day One are under way.
Doboks ironed, hair tidy, ID cards round necks, towels and drinks handy, whiteboard schedule up and running, coaches' radios distributed and tested, a section of seating claimed and bedecked with the flag, breakfast had or not, sleeping done or not, seconds and back up seconds arranged, social media checked and posted to, loved ones called and messaged, schedules and rings checked and triple checked…
And the Umpires are taking their positions…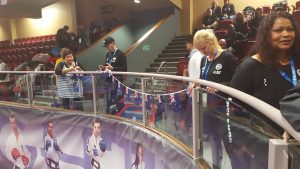 First up Maddison and Logan for patterns, Kara and Courtney for power. Maddison won her first nicely with three judges to two, and Logan is thru to the second round.
BD
Alex going on for patterns shortly. The power breaking ring has just started, so they're nearly half an hour behind.
BD
Logan's won three rounds of patterns. A few more should bring him near the medal rounds.
 Alex is still waiting to go on in Ring 6 I believe.
BD
Alex wins his first round of patterns. His Eul-Ji looked nice and crisp.
BD
Toby Langdon bows out of patterns after the first round, Jack waiting for his turn.
BD
Jakob wins his first patterns round.
BD
Alex Petrovich is on again with Juche tul, in Ring 7…
Won-Hyo for the second pattern… Leading 4-1…
And a win 5-0.
Word has it that Logan has won another one on Ring 2
BD
Kara's next for power…
Setting heights…
Knifehand ready and… No break.
Side kick… Disallowed.
Turning… Monstered it.
Which makes a tie for her and Court with three others for bronze. Apparently the umpires are watching the side kicks closely for technical flaws. One wonders where innovation is expected to come from in power breaking. Who has the greatest knowledge of breaking? Who has explored the possibilities the furthest? Competitors need more input.
BD
Bronze to Alex in patterns.
BD
Kara and Courtney playing off with four others for Bronze.
No joy for Courtney and Kara.
BD
Logan wins Bronze in patterns, Jared and Jakob just miss out.
BD
Róisín is performing in patterns ring 5.
BD
Boys' breaking begins, Michael sets his heights. Wesley is seconding.
No points for the punch, smashed the knifehand…
Kills the side kick, getting a red flag but keeping his points.
No joy on the turning, eats the reverse alive to the cheers of the Kiwis at ringside.
21 points, and a commanding lead, but with most of the division to follow, including Alex and Ethan.
Alex prepares his heights. Punch smashed! Roars from the boys.
Knifehand boards die just as promptly.
Side kick measured and… BOOM. One red flag with no loss of points.
Turning destroyed.
One to go.
And the clean sweep for Alex.
Hopefully a very hard act for the other countries to follow.
BD
Róisín thru at least two rounds, apparently with flawless 5-0 decisions.
BD
Mixed results for our stripes, Sabum Trotter progressing but Sabum Shibata retiring, each after their first round of patterns.
This series of posts (nearly 20) conveyed the gentle descent into chaotically rapid activity – all started slowly, orderly and gradually became frantic. I partly chose, partly had no choice, but to post in punchy little phrases. I feel this gave a realistic sense of the pace of events. Being more specialist in the power and special technique events I relied on radioed, spoken or messaged updates on how Nga Kaponga were going in other parts of the stadium.
Along with bare results I wanted to give elaboration here and there, both for good writing / easy reading, and to personalise the data. In past competitions all we've heard is who won what, which really doesn't paint the picture of near misses, domination etc that actually happens. In particular I wanted to respect my athletes and teammates who didn't get as far as they'd wished. Hence my use of "bowed out", "no joy", "finishes", "stops after…". True, yet sympathetic. I know acutely the efforts that go into an attempt, and the tears of failure.
Top of Form
The first half day is done.
The roller coaster is in full effect. We've had the deep lows of disappointment and injustice when members didn't progress as far as they'd hoped or were sanctioned in ways that seem unfair.
Some have felt they didn't show their unrestrained potentiality, having to take some solace in the knowledge of their achievements in training and past tournaments. Next job guys.
The highs have been wonderful, tearful, joyful. No golds yet, but several personal bests.
Several rings are paused for lunch and we wish the best for our people continuing and the ones who start later.
We've dealt well with close schedules, radio failures and missing equipment. The power ring was a half hour late to start because the tournament doctor arrived late.
Lunch is a little difficult as the concession stands are very expensive and the nearest supermarket is a ten minute walk away, and most rooms don't have refrigerators.
Big positives include the Wi-Fi and that our rooms are a minute away from the venue.
Back soon.
BD
Something I think is really important for those at home to know is that the tournament is very, very difficult. Not so much the bit on the mats, but the emotional aspect. Our hearts leap when one of us passes thru the gate to the next level, takes honours on the podium. We grieve with those who've trained hard but met hard luck or better adversaries. We quietly ponder the correlation between deservingness and results. This is, at least in my experience, the harder to deal with. As a coach I need to be strong, give consolation and hugs when dashed hopefuls walk out of the ring in defeat, crying where I can't. I've felt defeat for myself and empathise. There's another job waiting though, and dozens after that. Our coaches and managers have given hundreds of unpaid hours between them, peaking in a crescendo of effort in-country.
In later posts I tried to give a sense of both the wonderful, happy side, and the negatives. It's important to hear about both, because each are true, and necessary to form an accurate picture of just what it's like. Caution is needed when reading about either in isolation – both elements are true and necessary.
All of the above covers just the travel to, and the first morning of, the tournament. So much happens in such a compressed timeframe that it's really common to come home tired, braindead, passioned out. That goes for competitors, coaches, managers, supporters and umpires. The trick is rolling into the next thing, finding the next goal, without chucking it all in because it was hard. Where would we be if everyone went home to the couch after black belt gradings? Things are hard mentally and physically but they're bridges, not chasms, gates not walls.
Other bits and pieces I did for reportage included getting quick snaps here and there, and downloading the livestream to cut down into manageable chunks showing our guys competing in team power and special. And so that's a story all about how my life got twist-turned upside down and I became a TK-D reporter. My favourite spontaneous picture is a good place to sign off: