Peter Cossey, 1st Dan, Hwa Rang Taekwon-Do
Being a Supporter at the World Championships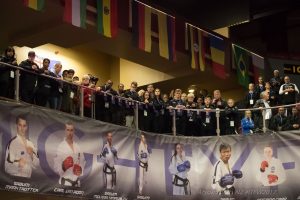 Attending the 2017 World Champs in Ireland, Dublin, was a greatly emotional experience. New Zealand had 57 competitors, 76 supporters plus 4 coaches and 2 management team. There were also 7 International Umpires from NZ. The Opening Ceremony was pretty straight to the point, enjoyable, light on long speeches and full of great performances. Even prior to the official opening emotions were running high as different countries marched into the stadium and lay claim to a seating area. The most notable entry to me was the Scottish team led by bagpipes blasting out their anthem. You could guess where each country sat by listening for their national songs. We New Zealanders were relativity subdued but then we knew what was coming soon. The highlight of the ceremony that night was of course the NZ team performing the Haka. I am sure someone else will write about our Haka, however I have to say there weren't many dry eyes among us, the supporters. It was a very proud moment for us, and a great privilege for the New Zealand team.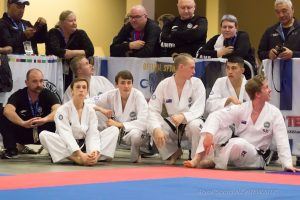 I wasn't exactly sure how a supporter role would work and if supporters added much value, but looking back over the event I can see supporters play an important part. Here are five reasons why you should take the opportunity to be a supporter, particularly if your son or daughter is competing:
You can help your son/daughter get through the emotional roller-coaster. It is amazing to see the change in their mood from one of tension to one of relief when their event is over. Even the toughest of people can burst into tears after an event when hugging their parent either from a losing disappointment or from a victorious jubilation.
You can help with practical aspects such as keeping an eye on sparring gear and personal belongings, allowing your son/daughter to prepare for the competition.
You can be with your son/daughter as they warm up for the event, hold pads or targets for them to practice on.
You can run around after them and get things they need or find things they have lost, all the things you usually insist they sort out themselves when they are at home.
You can cheer for them during the event; they can hear your familiar voice reassuring them that they can get through it.
Supporters bring a steady base line to the team and allow competitors to focus on the task at hand. If you ever have the opportunity to become a supporter for a team, I totally recommend it.
Pete Cossey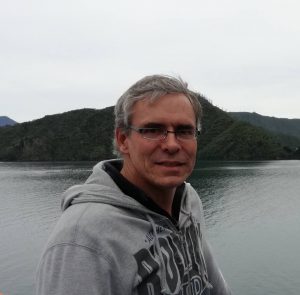 Photos courtesy of Jackie Strachan, Atyok Photography