Dane Canton, III Dan, Southern Cross Taekwon-Do Academy
IIC 123 – Malaysia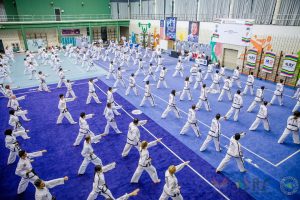 Kuala Lumpur played host to the 123 International Instructors' Course in early November. The course was delivered by Grand Masters Marano, Lan, and Weiler and Master McPhail. Master Daher was also there to pass along some nuggets of wisdom. The course was held over a three-day period and covered patterns, sparring, strength and conditioning, and self-defense. Taekwon-Do practitioners came from all over the world to soak up the teachings. As expected, Malaysia had the largest contingent, however, there were also significant numbers from Australia, Singapore, and Hong Kong. Pockets of people from Taiwan, China, and even one from Ethiopia added to the number of participants and made the big training hall feel crowded.
The course was historically significant for many reasons, one being that Malaysia has only recently returned to being affiliated with the ITF. For a number of years, Malaysia was a member of the GTF, the organisation founded by Taekwon-Do pioneer, Master Park Jung Tae. Also, many of our patterns were invented in Malaysia, during the time General Choi spent there as South Korean ambassador, so standing where that all took place was a surreal experience. As a New Zealander, it was personally significant as New Zealand Taekwon-Do's pioneer, Mr. Norman Ng, studied Taekwon-Do in Malaysia before bringing the art to New Zealand. As Master McPhail mentioned at the IIC, New Zealand and Malaysia have a special connection in this way.
Friday started off with a warm up conducted by the always impressive Grand Master Lan. It was my first time training with him since his visit to New Zealand in 2011.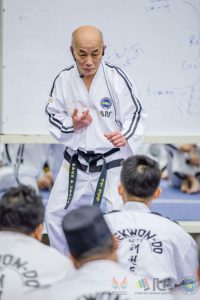 This was followed by Grand Master Marano taking us through the technical intricacies of the coloured belt patterns. Grand Master Marano's knowledge of the encyclopedia is incredible. He could tell us, down to the page number, where the encyclopedia talks about different types of motions and even where some of the mistakes are. Then it was Master McPhail's turn to take us for some step sparring. I remember never really appreciating the technical finesse of step sparring when I was a coloured belt. It was always just something we had to do. But seeing Master McPhail talk about the precise angles and distances needed in three-step sparring, the slightly more open two-step sparring, and the one-blow-one-kill mentality of one-step sparring was inspiring. Finally, Grand Master Lan took us for self-defense, with a focus on "do the unexpected", before we all went home to prepare for the next day.
Saturday began with Grand Master Weiler, who Grand Master Marano strongly hinted could be the next president of the ITF, taking a strength and conditioning class. He focused on exercises that strengthen our muscles while looking after our joints and spine. We were then treated to first, second, and third dan patterns, taken by Grand Master Marano, Grand Master Lan, and Master McPhail, respectively. Grand Master Lan finished out Saturday with free sparring and a talk about tournament mentality. His years of experience and coaching at the highest levels had us all in awe.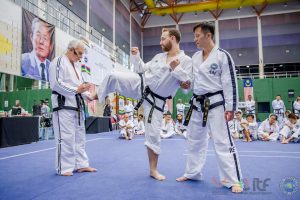 Our final day came and some of us were treated to a little sleep in. The closed promotion test was held in the morning so we didn't start again until 10 am. We began with the fourth dans and above breaking off to study Yon-Gae, Ul-Ji, and Moon-Moo while Master McPhail took the rest of us for some fundamental movements and lower grade patterns. For some of us, this was a crash course in Saju-Jirugi, Saju-Makgi, and Saju-Tulgi. The focus was on using correct hip twist, ensuring the hips were going in the same direction as the power, not in the opposite direction. Master Daher closed out the shorter day with some stretching and secrets to his signature high twisting kick. Everyone then clamoured around for photos and to congratulate the three examinees, all of whom became masters.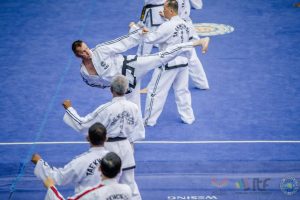 Although there were some challenges, the chance to train under such knowledgeable and technical Masters and Grand Masters was an extremely valuable experience. It really is surreal to be practicing Taekwon-Do in a country so steeped in our history and I cannot recommend it enough.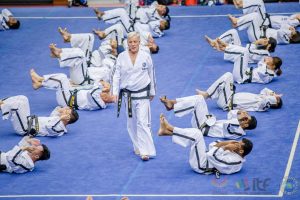 Taekwon!
Dane Canton