Irene Yu 2nd dan, Remuera Taekwon-Do.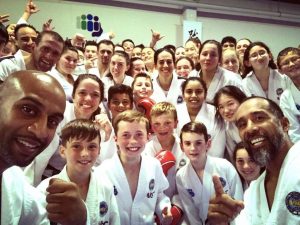 Photo courtesy of Sabum Johann De Silva and Sabum Stephen Tapilatu

"This… is already the hardest class… I have… EVER done!"
They were the words of a fit and athletic practitioner after the warm up, 5 minutes in. But don't let that put you off, because the class was so much fun – and even I managed to survive it with a slipped disc.
The Dragon Warrior Sparring seminar was lead by expert coaches Stephen "The Dragon" Tapilatu, an ITF sparring legend, and Johann "The Warrior" De Silva, the Wales National Coach.
The first part of the seminar focused on fitness and footwork. We worked a lot at in and out movement, as well as lateral movement. This was particularly interesting information because it showed the set-up in how we can begin our attacks. It showed us how we can position ourselves to gain an advantage on our opponents before we even think about attacking.
From there we went into partnered drills and went over many technical aspects of kicking, such as a few side kick and back kick variations. We also worked on landing an effective scoring hand strike known around the world as the "blitz".
Coach Tapilatu and De Silva were both very good at explaining to us the elements of kicking efficiently, and timing our movements effectively in order to make these techniques effective. My prior knowledge of these techniques was quite simplistic before they were broken down by the coaches, but  now having reviewed my notes from the seminar and applied them to my own training since the World Cup in Sydney, I can see how important these details are to the international game. It reminded me how important it is for local athletes who are keen to compete at world level, as well as general practitioners of our art to attend events like this to give them a better appreciation of the work that goes into training at this level. Moreover, this seminar was a great source of inspiration for our younger students looking for ways to extend their potential in Taekwon-Do.
From there we followed into the crucial elements of ring craft. We explored the questions of how we escape from a fighter who is cornering us, and also looked at how we become the fighter that can control the centre of the ring and dictate the play. I found this information so insightful as it helped me gain a better understanding of how international sparring athletes break down their strategy when training and how they apply that strategy in high level competitions.
The final part of the seminar ended in a sequence that brought together the details of effective kicking and timing to the techniques we had practiced in combination. As we performed the sequence of movements in repetition, I could see dramatic improvements in my own efficiency and ability to do the techniques with better coordination and control. I found for the following weeks after practicing this sequence more, that I was able to better apply these drills in sparring.
Overall, I was very grateful for Coach Tapilatu and De Silva for sharing with our group their insights and training techniques for the world championship game. I enjoyed the content immensely and am hoping that more events of a similar nature are brought to NZ to help our aspiring practitioners improve their top level game.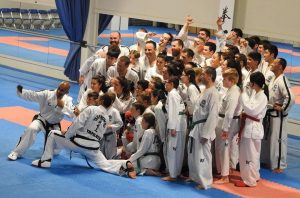 Photo courtesy of Joe George

Full footage from this event can be viewed from early December on TKDCoaching.com.