Dane Canton – III Dan, Southern Cross Taekwon-Do Academy.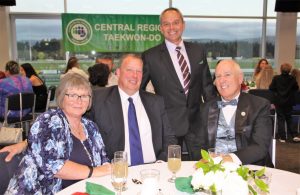 June Blencoe, Paul Blencoe, Lawrence Mantjika, Master Rounthwaite
On November 10th, Palmerston North's Awapuni Racecourse played host to the Central Region Ball. 136 people gathered to celebrate the region's successes over the last year. The occasion marked 48 years of Taekwon-Do in New Zealand and General Choi's 100th birthday. The evening began with attendees arriving dressed in sharp suits and beautiful dresses. Everyone posed for pictures, with our tireless photographer, Kathrine Mitchell capturing everyone's magnificence. After everyone had their fill of dinner, it was time for the awards ceremony. To kick things off, a video presentation was shown, highlighting where we have come from and where we are going as a region. You can see the video here: https://youtu.be/8PFGA0DUcDM.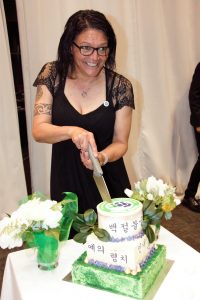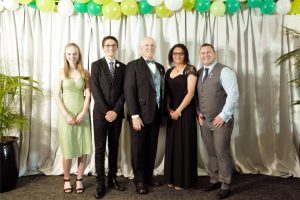 Left: Joy Hawakirangi-Mackenzie
Right: Sophie Somerville, Cody Milne, Master Rocky Rounthwaite, Joy Hawaikirangi-Mackenzie, Richie Peters
Awards were then presented, recognising some of the region's stars. Mr Richie Peters then made a special presentation on behalf of Master Rounthwaite and everyone in Hawkes Bay, to recognise Mr Lawrence Mantjika and his efforts to bring the region together. Immediately following this, a local DJ kicked the rest night off with some great music and everyone danced the night away. A great night was had all around with many people saying that they can't wait for the next one!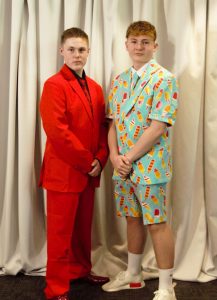 Callum Mitchell and Dan Yates
List of Award Winners:
Black Belt Sportsperson of the Year:
Jack Watson (Southern Cross Taekwon-Do Academy)
Coloured Belt Sportsperson of the Year:
Paloma Janse (Phoenix Taekwon-do)
Black Belt Student of the Year:
Kees Hooper-Whiti (Phoenix Taekwon-do)
Coloured Belt Student of the Year:
Cody Milne (RTR Taekwon-Do)
Regional Director's Volunteer of the Year:
Shirley Hooper-Whiti (Phoenix Taekwon-do)
Finally, a special thanks to our sponsors for the evening: Mightyfist, Fuji Mae, and Epic Engraving.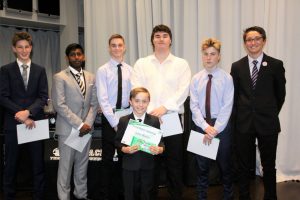 Reuben Watson, Rynal Prasad, Ryan How, Lachlan Nicolson, Oscar Crooks, Jake Dallow, Cody Milne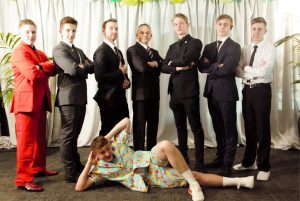 Callum Mitchell, Jack Watson, Dane Canton, Lawrence Mantjika, ALex Petrvich, Alex Morozov, Connor Mitchell, Dan Yates