Daniel Cossey, 1st Dan, Hwa Rang, Tauranga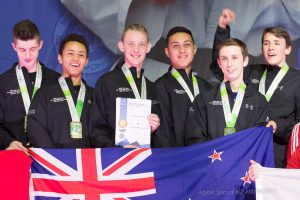 Photo by Jackie Strachan, Atyok Sports Photography
In April last year the team for the World Champs was selected. I was very excited to be part of the team to represent New Zealand. I wasn't fully aware what I was getting myself into but I knew it would be a lot of hard work and fun. On October 6th the team left Auckland airport. After landing in Dublin we had 3 days to recover from jet lag and go site seeing around the city.
Tuesday was the weigh-ins. There were a lot less people at breakfast this morning. Luckily for me I was safely in my weight category. That night was the opening ceremony. This was an emotional experience, with the highlight for me being our teams performance of the Haka. Although I was very nervous everything went smoothly, and it was an amazing experience.
The tournament started on Wednesday and it was mostly patterns. On Thursday I was up for specialty. I was very nervous, as all my work was going to come down to just 5 minutes of performance and I didn't want to screw it up. I hit 4 of the 5 targets. Then I watched the 49 other competitors. Two Romanian guys easily smashed all 5 which completely blew me away. Alex and Aidan the other two NZ team members doing individual specialty also hit 4 out of 5 of the targets. One polish guy also hit 4 of them. At the very end of the day there were play offs. The three New Zealanders and the Polish competitor went up to play for third place. We did the turning kick at 2.4 m. I had never tried it this high before and just missed it. The polish guy also missed it. Alex and Aidan smashed it so they got third equal. That put me at fifth place. I was quite close to winning a medal. At first I was disappointed, thinking maybe I could have jumped just a bit higher. But overall, I am pleased with my result as I know I put every effort into my training and performance.
Friday I was up first thing for sparring. I won my first fight. This was an amazing feeling thinking I had just one a fight at a world stage. My second fight I was up against a guy from Chile. I lost by just one warning. This was a shame but I feel like it could have gone either way and I know I tried my hardest. It was a relief to have all my individual events over. I enjoyed the rest of Friday going around Dublin again as the tournament was only a half day.
Saturday was mostly team events. I was doing team specialty and breaking. In team events one person does each technique and there is one reserve, I was doing the flying high front kick. All five team members who were kicking smashed there technique. No other teams managed to do this, they all missed at least one. This meant that we had won! This was a crazing feeling to realise we had one a Gold Medal. In breaking I was the reserve and we broke three of the five techniques. It wasn't quite the result we hoped for but I still think the team did awesome. That night we received our medal for team specialty. It was amazing going up on the podium and holding the flag. I couldn't believe we were receiving a gold medal. The next day was more team events which we did well in. At the end we had 8 gold 6 silvers and 13 bronzes. This put us at second best country behind Ireland, the hosts, who had 10 golds, just two more than us.
Overall it was an amazing experience. Everyone did amazingly well, and congratulations to all those who competed because I am sure everyone tried their best. Even though I didn't medal in the individual events it really inspired me to keep going and try again. I know that I gave it my all and I can't wait to do it again. I encourage all those who are thinking about giving it to give it a go. It's a lot of hard work but you won't regret it.