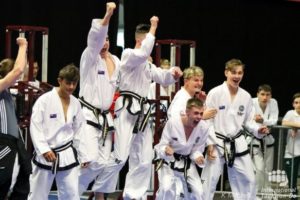 Well, what a blast this was!
I've had the privilege of being to 4 world champs. Wellington NZ 2011 as a helper where I spent my time on the breaking rings. Jesolo Italy 2015, this time to support Kyla Walton in her first world championships. This was an opportunity we couldn't pass up considering Kyla is from our Berhampore club and the Walton family we consider as our family. Dublin Ireland 2017 –  this time we had four of our students Kyla, Logan. Jakob and Georgia selected, so off we go again but this time we travelled with the team as supporters. And lastly Inzell Germany 2019 with again three of our students selected. This time I took the opportunity to help out as a second for the team during the competition days.
Well now that Inzell Germany World Champs are all done and dusted I've been able to catch my breath and look back on what an amazing, if not tiring ride this has been. I had the privilege and honour of being able to help out the competitors and coaches where and when needed. Unfortunately as with any tournament you never get to see everyone in action, but to the ones that I did have the fortune to see it was exciting, nerve racking, emotional, and a joy to watch your amazing skills come to the fore in competition on the world stage!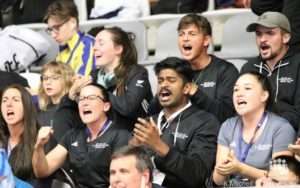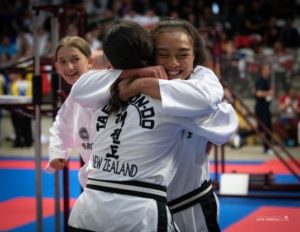 My highlights are many:
The individual breakers Wesley Filiki ( 3x world champ ), Kyla Walton, Janae Wakarau and Georgia Vogt picking up individual medals.
The junior girls breaking-team getting gold.
Watching Tamara Ruaporo get silver in her first champs in patterns.
Seconding Courtney Weir and Layne George for patterns, Georgia and Gracie Frontin-Rollet for sparring.
Sean Neary's sparring matches nail-biting excitement.
Best 2 minutes of sparring by far would have to be Matt Bowden vs USA in the team event.
The junior and senior men's sparring teams, was like redemption for both teams. You all stood up and showed the world what it takes!
Well done to the entire squad. Stand tall and proud as you all played your part in amazing 3rd placing for NZ overall!
Wesley Filiki – I give big kudus to. You give so much time to anyone (and there are many) who comes up to you and asks for a selfie. If only you had a dollar for every photo taken. Giving support to all your team mates when needed. To me, you were a great ambassador for the team.
Also it was great to see New Zealand and Australia come together for Anzac Day and show our respect for the past, followed by our team doing the haka, very proud to be a kiwi!

You can't underestimate the input, expertise and time that our coaches put into the athletes to help them perform and achieve on the world stage. They all do an amazing job! Thank you is not enough for our managers Paula and Nathan Bowden, you both have done an outstanding job! And lastly to the supporters, backing and cheering for all the competitors, it's been a pleasure spending time with you all.
You never know, might see you next time
Alois Vogt, 4th Dan, Berhampore Taekwon-Do
PS Thanks to Katherine Mitchell and Jake Siddall for the great photos.