A report on Australian Taekwon-Do
Gerard Kelly, 6th Dan, Universal Taekwon-Do
Welcome, by all means welcome, to the fourth issue of "Across the ditch". Every edition of TKD Talk will feature this article, highlighting the Australian Taekwon-Do scene and its people.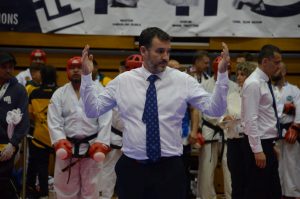 2018 World Cup update
Well the 2018 World Cup is done and dusted and already a memory. But what memories! The organisers did a fantastic job and I for one am so very grateful for the care that they took in every detail of the comp. For me personally, I achieved my dream of centre umpiring in the team finals on ring one at the end of competition, something that no Australian umpire has achieved before! Being selected to do one round was honour enough, but I was selected to do both the male and the female finals! Needless to say, it was the highlight of my umpiring career thus far! It was wonderful making new friendships and renewing old ones and relishing in the comradery that comes from working with the elite umpires in the world! The standard of competition was fantastic, and I can't wait till the next opportunity to work with the most professional group of umpires that there is in any Taekwon-Do organisation.
 Practitioner profile
Each issue we will do a profile on an Australian Taekwon-Do Practitioner. For this article, I have chosen Australia's most elite sparring competitor, Mr Trent Hayden of Hayden Martial Arts. Not only is this 4th dan from the Sunshine coast an amazing practitioner of Taekwon-Do, he is a true ambassador for the martial arts…and he happens to be one of the nicest guys you will ever meet!
Gerard: Mr Trent Hayden, thank you for taking the time to talk to me.
Trent: You're welcome!
Gerard: Thank you sir, could you please tell our readers when you began training?
Trent:  Wow! So, I began training when I was 5 years old so around 1998, Under Corey Webb in Karuah.
Gerard: Who was your inspiration in those early years?
Trent:  Bruce Lee for sure, my dad owned all the movies so I loved to watch them!
Gerard: Yeah, me too brother, Its great to see the next generation appreciating the Master that was Bruce Lee!
Gerard: What has been your most memorable moment in your TKD career?
Trent: Probably, after I won gold at the European cup, as my parents were not able to come with me for the first time in an international event, it was the phone call I made to them to tell them that I won gold!
Gerard:  I remember getting the news that you had achieved that milestone, I must admit I had some tears of joy for you my friend!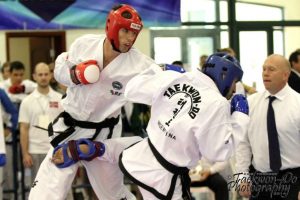 Gerard: What is your favourite Taekwon-Do technique?
Trent:  Probably reverse turning kick, I think I have always had a fascination with spinning techniques, and it is to me the ultimate spinning kick without losing any effectiveness…as opposed to like a 540 or something ridiculous….
Gerard: Hahah yeah 540…something I do every day……
Well that's all we have time for sir! Thank you so much for taking the time out of your busy schedule to chat with me!
Trent: You are most welcome Gerard, Thanks so much for doing this!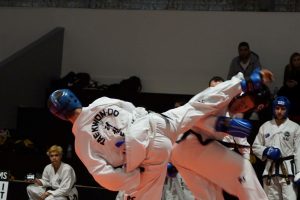 Take care.