Master Evan Davidson, VIII Dan, President ITFNZ
From the President – December 2017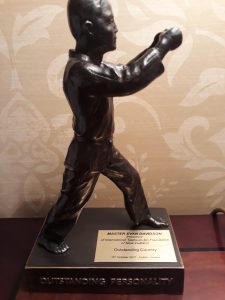 Whilst attending the ITF World Champs in Dublin, I was completely surprised and truly honoured when informed that ITFNZ was to receive a trophy and an accompanying certificate, acknowledging our organisation being enrolled into the International Taekwon-Do Federation Hall of Outstanding Personalities under the category of 'Country'.
The Trophy was presented to me during the Closing ceremony. Poland and Argentina were also equally honoured with a similar award.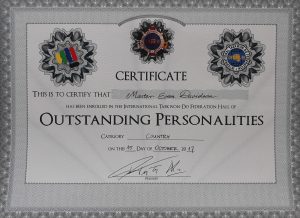 I would very much like to thank our OTF President, Master Michael Daher, who nominated New Zealand for this presentation. The bronze statuette depicts the founder, General Choi, in left walking stance whilst executing a high twin fist vertical punch.  'Outstanding Country' is awarded to a National Association, which serves as a role model for other organisations in respect to the development of Taekwon-Do, number of practitioners, range, potential and their overall success.  I am very proud of every one, past and present in this organisation, who have contributed so much to the development of ITF Taekwon-Do in New Zealand.
New Zealand had a very large contingent (150+) who travelled to Ireland for the 2017 ITF Senior and Junior World Champs. Our team of 58 competitors placed 2nd overall out of 60 competing countries.  This is a tremendous achievement.  Many thanks go out to the team managers, Paula and Nathan Bowden, the Coaches, and our Umpiring officials.
I and Master McPhail attended the 25th ITF Congress meeting held during the competition.  This ran reasonably smoothly and was completed in just less than 3 hours.  Some points of interest:
Next year's World Cup in Australia (25th to 30th September 2018) is now being held at the Sydney Olympic Park Sports Centre.
Slovenia won the rights to host the World Cup in 2020.
Nominations are now sought for hosting rights to the ITF World Champs in 2021.
As we near the end of 2017, I wish all our Masters, Instructors, Black Belts, Colour Belts, Administrators, Families and Supporters the very best for the festive season, and have a safe and prosperous New Year.