Master Gray Patterson, 7th Dan
ITFNZ President.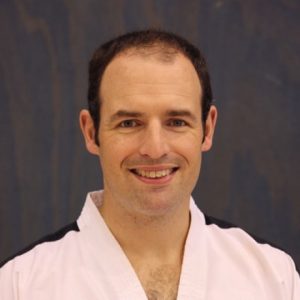 My Taekwon-Do journey began in 1987 when, along with a handful of school mates (including Dr Jake Pearson, 5th dan), I started training at the Khandallah Club in Wellington. My friends and I were all keen on martial arts movies at the time, and I seem to recall the decision to seek out a club of some sort was made by the group shortly after watching the original "Karate Kid" on video. There were two martial arts clubs local to our neighbourhood – one a WTF club and the other an ITF club. We had no clue what the difference was at the time, but we ended up choosing the ITF club. I don't remember exactly why, but it's quite likely it was simply because it was 500m closer to where we all lived. 
Despite being over 30 years ago now, I still clearly remember my first training session at the Nairnville Recreation Centre. The instructor, Mr George Nicholls (1st dan), had the class performing kicks across the width of the dojang – front snap kick, turning kick, side piercing kick…I was doing my best to copy the person in front of me, flopping my foot out and attempting to make the same sort of shapes. The trouble was, to my 12 year-old layman self, side-kicks looked a lot like the turning kicks we had just done, but half way across the hall my perception was abruptly adjusted. 
"EVERYBODY STOP!! WHAT DO YOU CALL THAT!? I SAID SIDE KICKS!!!! EVERYBODY START AGAIN!!!!".  
Yeah…sorry everybody…my bad… 
In any case (and despite the early dressing down) I became hooked and have never looked back. 
I still regard starting Taekwon-Do as one of the most beneficial things I have done in my life. Besides the obvious physical benefits, I have been able to apply the lessons learned through my involvement as an instructor, umpire, examiner, event organiser, administrator, and so on, to other aspects of my life. I have had many fantastic experiences, travelled extensively, and met a great number of wonderful people as a direct result of my participation in Taekwon-Do.
I have absolutely no doubt that the quality experience I have had throughout my Taekwon-Do journey is in no small part due to the quality of our organisation and the people within. I am immensely proud to be a member of International Taekwon-Do (ITFNZ), and I hope that by serving as President I can help other members to realise similar opportunities and experiences to those that I am so grateful for.