Kyle Anderson – My Experience at the Mightyfist Cup, June 2017
It was a long day filled with fun, nerves and excitement. The team and I had a look at the tournament on the first day for about 2 hours. We didn't compete that day because it was colour belts only but we did get to see what it was going to be like. Us black belts started the next day at around 12 o'clock in the afternoon and we were all ready and excited to take on competitors from 7 other countries. We all had to go and stand on the mats in our patterns groups and listen to the host Luciano L. Iriarte speak in front of everyone. I started feeling nervous because everyone was speaking Spanish. My Patterns and Sparring groups were up straight away, one after the other.  It was really exciting and after my patterns didn't go as well as I wanted, my mind was set on winning the gold medal in sparring (I even got put up a weight division!). And so that's what I did. Seconded by two of the Mightyfist team, Mark Trotter and Sean Neary. After rounds of hard fought battles against passionate sparrers. I stood proud at the top of the podium with one of the most beautiful gold medals I have ever seen.
Later  I got to cheer on the rest of the TROTTERTKD Team that I had travelled over with. As well as watching all the amazing fighters and pattern practitioners from Argentina and the rest of the other countries competing. Then at the very end we got to see "The Mightyfist Team" compete. There were 6 of them, all world champions (3 of them from NZ) and they were chosen to compete against the winner of their divisions. Five of them even did team sparring, which was so amazing to watch. The rest of the team and I even got to hang out with them the next few days. Overall it was an amazing tournament to go to and massive with over 1200 competitors. I would definitely love to go back because it was a great learning experience and heaps of fun. I also made a lot of new friends and got to become closer friends with the TROTTERTKD team.
There were 1200 athletes attending the Mightyfist Cup this year from 8 countries.
The TROTTERTKD team: Rosin Giles (Gold Patterns), Jared Wood, Melissa Timperley (Silver Patterns, Gold Sparring), Sean Neary (Silver Sparring), Hunter Edwards (Gold Patterns), Kyle Anderson (Gold Sparring), Courtney Weir (Gold Patterns and Bronze Sparring), Niketa Wells (Silver Pattern)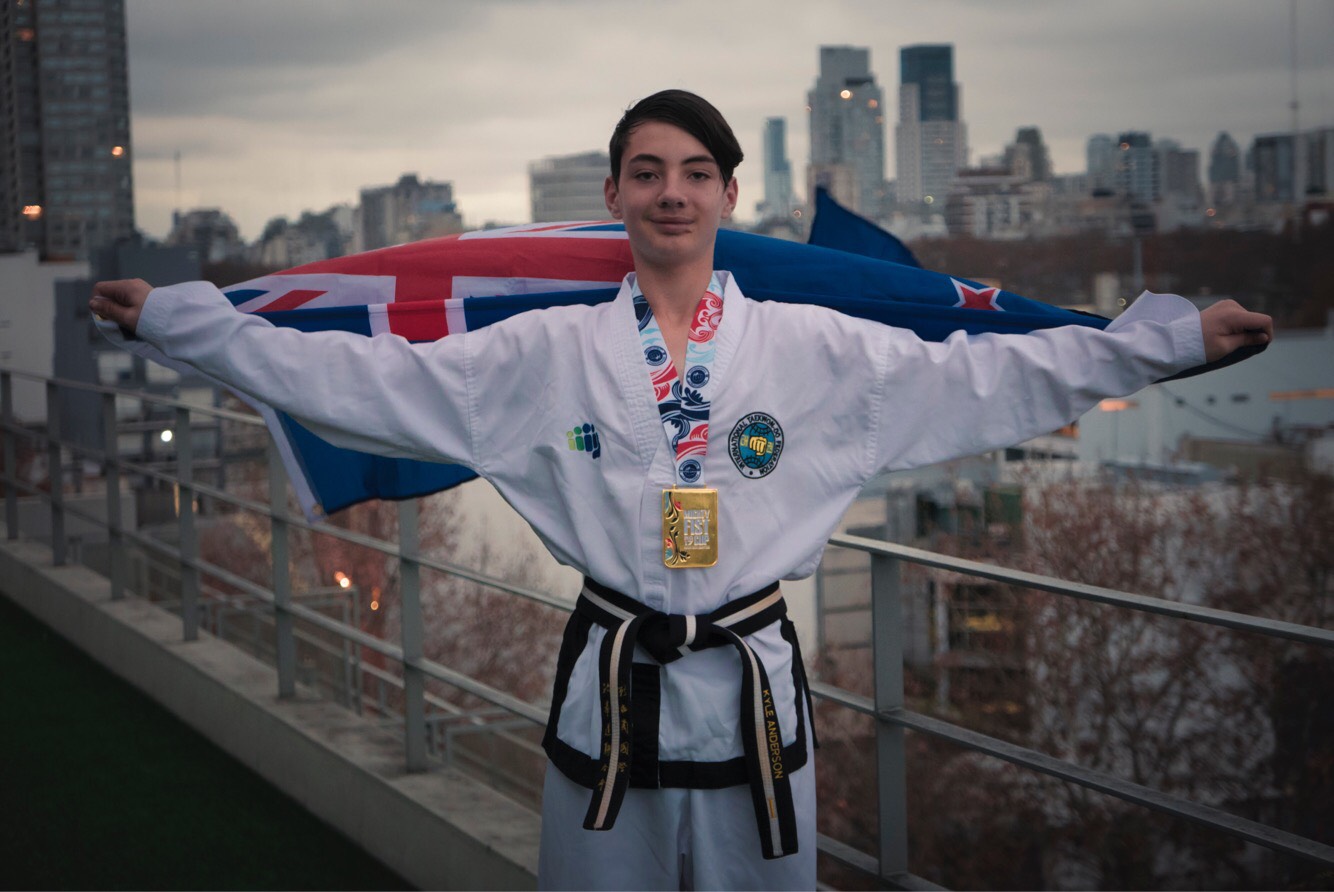 The Mightyfist Cup is an invitational tournament so if anyone would like to attend next year they are welcome to contact Mr Mark Trotter to put your name down to come.
Mark Trotter can be contacted at:
Email: markatrotter@hotmail.com
Phone: 0210555760
Facebook: Mark Trotter